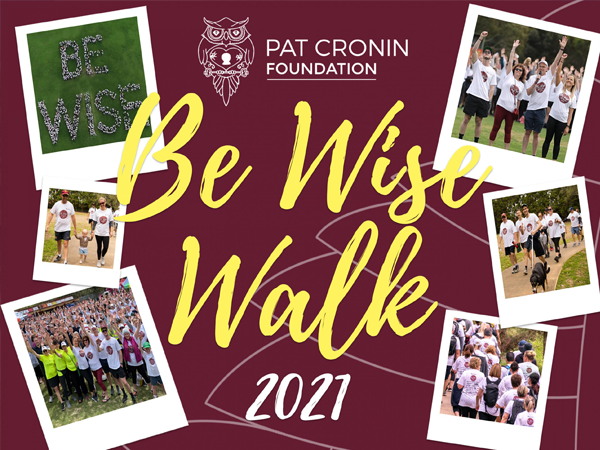 Be Wise Walk
November 15 – 21, 2021
Get your sneakers on and get ready to hit the trail or pavement. You choose the day (or days) of the week from Monday the 15th of November 2021 until Sunday the 21st of November 2021 to walk in your own neighbourhood anytime and raise much needed funds for the foundation.
This year due to the uncertainty of holding a mass participation event the Pat Cronin Foundation Be Wise Walk 2021 will again be held as a virtual event following on from the success of our 2020 Be Wise Walk to Anywhere concept.
In 2020 our supporters combined to walk a collective 17,000 kms which is a complete lap around Australia so how far can we go this year? Pat spent some time in Year 11 visiting Imperia in Italy and that is 16,362 kms away so maybe we can combine with a dream to make it to Imperia?
Pricing
Adults and kids over 12 – $40
Kids under 12 – $20
All registrations include our event T Shirt and postage
The Pat Cronin Foundation encourages all participants to follow up to date government health guidelines.
Register now to join us as we unite to End the Coward Punch and to remember Pat. Every dollar we raise will help us to educate more young Australians with Be Wise strategies to make our world a better place.
Get your family, friends, teammates and workmates together and join the hundreds of others in this year's Be Wise Walk.

A huge thanks to our Be Wise Walk partners Barry Plant and Le Pine Funerals

Keep up to date via our Facebook page for more information